This year's National Travel and Tourism Week runs from May 1 through May 7, and we're ready to celebrate. As a city that continues to see record-breaking tourism numbers, New Orleans represents the powerful impact of tourism from an economic standpoint as well as a cultural standpoint. Learn more about New Orleans CVB planned events to celebrate National Tourism and Travel Week below!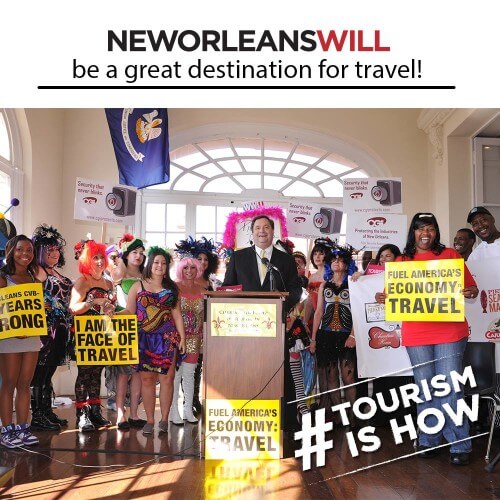 A Tradition Since 1984
In 1983, congress passed a resolution that created National Travel and Tourism Week as a formal, annual event. First celebrated the following year in 1984, this nationwide week of events honors the powerful impact of the hospitality industry and its contributions to cities across America.
The importance of tourism isn't limited to New Orleans – many states and cities rely on tourism as a positive economic and cultural force.
What to Expect in New Orleans
Hospitality and tourism is New Orleans' largest industry and one of its biggest assets. National Travel and Tourism Week is an opportunity to celebrate the benefits of this fast growing industry.
During the 2016 National Travel and Tourism Week in New Orleans, you'll find events all over the city, like a kickoff second line and travel rally in the French Quarter. Coinciding events like Jazz Fest, Jazz in the Park, Wednesday at the Square, and GiveNOLA Day (on Tuesday, May 3) also serve to make National Travel and Tourism Week especially vibrant in New Orleans.