Every single tourist dollar spent in New Orleans travels through the city like a ripple effect. But what does that path look like? We've created a sample pathway of a single tourism dollar, based on the recent successes of the Flash Career Fair.
Let's say Howard attended the Flash Career Fair and landed a job at the Hilton Garden Inn. With his newfound job, he wants his sister, Jessica, to come visit. Jessica stays at – where else? – the Hilton Garden Inn, so she can see her brother in action at his new job. Jessica is so excited about her brother's new position that she decides to buy him a cake to congratulate him.
Jessica heads to Sucre on Magazine Street in search of a beautiful cake for her brother. She spends money on a small cake plus some macaroons, but that's not all. After Sucre, she stops in at other local stores like Fleurty Girl and Storyville for souvenirs to take back home. Jessica's purchases have created revenue at Sucre, Fleurty Girl, and Storyville all in one simple shopping trip. But the path of a tourism dollar keeps going…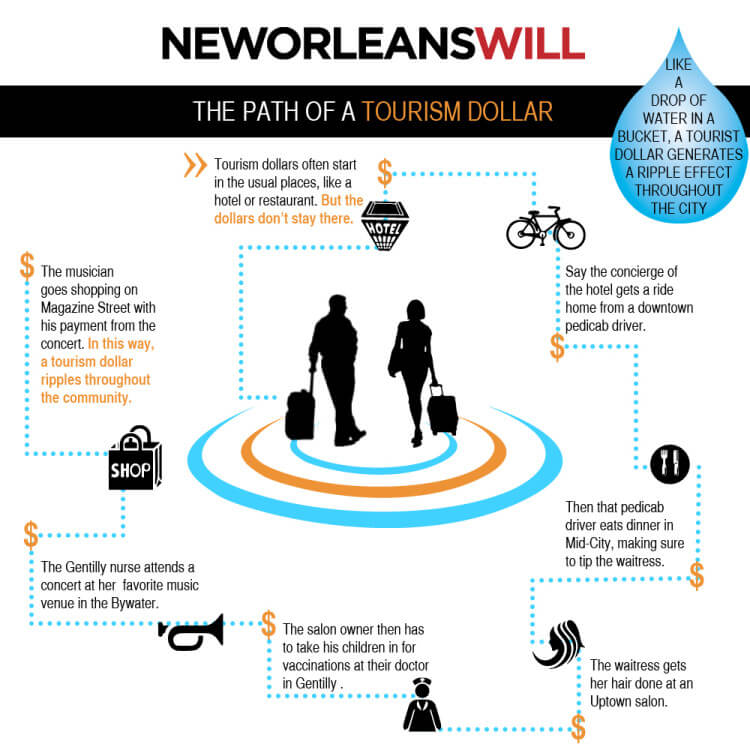 One of the bakers at Sucre where Jessica shopped just can't eat another sweet. So, he takes the money he made off her purchase and heads to GG's Dine-o-Rama nearby for a savory, comforting meal before catching a cab to the Frenchmen Street to hear some live music. He was in such a good mood he couldn't wait to tip the musicians on Frenchmen. The musicians, pleased to have an extra few dollars in their tip jar, go to celebrate with a nightcap drink in the French Quarter, putting money back into the local economy once more. Jessica's dollar travelled from her pocket to the baker at Sucre to the musician on Frenchmen Street to a cocktail bar in the French Quarter.
Across hospitality, retail, the food industry, live entertainment and more, the path of a tourism dollar is a chain reaction that bolsters the city's local economy, and Howard couldn't help think about this chain reaction as he enjoyed his slice of cake to celebrate his new job. Though Howard works directly within the hospitality and tourism industry – along with 80,000 fellow New Orleanians – it's clear that even a single tourism dollar touches our entire economy. How does the tourism industry positively impact your life?