A third generation business that has been serving the 7th Ward and Greater New Orleans area since 1899, Vaucresson's Sausage Company specializes in delectable hot, smoked, and creole style sausages featured at restaurants, festivals, and pop-ups throughout the city. Recently, we spoke to owner Vance Vaucresson about what inspires him, ways in which Vaucresson's has pivoted operations during COVID-19, and some exciting news on a new development taking shape this Fall. 
How did you get started? What inspires you?
My earliest introduction was around 8 years old.  Hanging around the shop, watching, cleaning, doing whatever "gofer" type stuff they made me do.  Learning by being in that environment, seeing the interaction with employees as well as customers instilled the importance of self-employment and entrepreneurship. 
My inspiration has always been my family legacy and the traditions that we shared generationally.  While the business was exposed to my siblings and myself, I was the only one who decided to continue the business in this generation.  My father accomplished a lot and did things, as an entrepreneur, that people were not doing in his community at the time.  By watching and listening, he inspired me to be my own employer and to give opportunity to others in the community—serve your community.  What he left me is treasured in my heart and that is why I will fight to continue our family legacy.
Favorite thing about living and working in NOLA?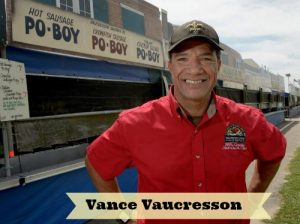 Being born and raised in New Orleans is truly a gift. To be fortunate enough to live and learn about your family history and experience your people is like no where else in the world.  The culture, food, music and friends make it very hard for someone to leave and very easy for them to stay.
Advice to young entrepreneurs?
Develop thick skin, be humble and learn as much as you can.  Ask for help and develop a relationship with a mentor who has experience or currently works in your field of interest—no need to reinvent the wheel. Our pride will make us avoid facing our weaknesses and strengthening them.  Know your industry and be as much of an expert and/or authority on your business. Tell fear to take a hike and know you can do whatever you put your mind to.
Ways your business operations may have shifted or adapted during the COVID-19 Pandemic?
We have shifted from our concessions business to distribution direct to consumer.  We have also moved on ideas that we had planned in the future and are implementing them now at this time.  You have to adapt to ever changing business climates.  It's the only way we have lasted for three generations.  Tough decisions have to be made to cut back and shift course, causing for some job loss and decreased revenue.  Take these times to look in the mirror and redirect your mission to withstand this time and future unforeseen challenges.
Update we can share with readers on the exciting news about bringing the shop back to the 7th Ward?
We are hoping to start construction on our former location (the company's old butcher shop) at 1800 St. Bernard Avenue in September.  It will be a retail concept where  people can come in to eat as well as pick up freshly made products to take home. The property plans also include affordable apartments. It is important to us to come back in the neighborhood where my family has served the community since 1899.  Our neighborhood has been an example of community for many generations.  We hope to present an example of culture, consciousness and hospitality as well as teach our traditions for many years to come.