In honor of Women's History Month, we're shining a light on women-owned businesses in our community and the value that they bring to our culture, society and economy. As we spend this time reflecting on the courage and tenacity of the women that paved the way before us, we also celebrate the women of today, working to influence and inspire the next generation of leaders. Recently, we asked Christine Miller, Founder of Two Chicks Walking Tours, a few questions. Here's what she had to say!
Tell us about your business and how long you've been operating.
I first "played" tour guide while at Loyola in the 80s, I built experiences for visiting friends based upon recommendations and my admittedly limited personal experience. I wasn't born here and wanted to include a range of activities, it was fun putting it all together. We all had such a blast and I loved seeing the city come alive for them. I kind of became the go to New Orleanian for friends and family after that. 
 I formally became a tour guide in 2012 and legally formed the business in 2014. I've long been fascinated by the city's colorful characters and the outrageous but true events that have taken place here. I've prided myself on providing experiences that I would enjoy going on and that's remained a strong desire and guiding force in moving forward during these unprecedented times. I'm a ridiculously curious individual and enjoy adding and revising stories based upon new information.
Has operating a woman-owned business presented you with any unique challenges or triumphs?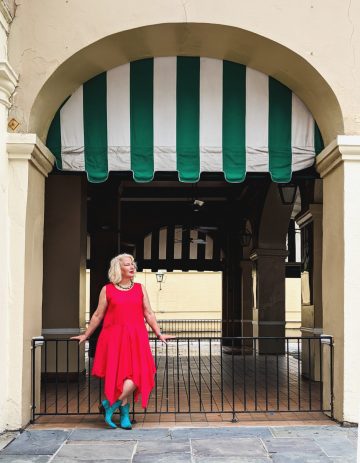 I feel that it's a feminine attribute to read a group of people and gravitate towards hospitality, so consider these aspects a gift especially as the owner of a tour company.  Self care is a challenge. I often placed the business before myself, which I know is a challenge for small business owners in general, but I suspect even more so for women. I hope to do better with this in the future.
Most influential woman in your life and why? 
Personal – No surprise here, MOM. Julie had such tenacity and grit. I can honestly say I've continued to find new reasons to admire her, even though she's no longer with us. I wouldn't be the person I am today without her.
Professional – Baroness Micaela Almonaster Pontalba – now there's an old school baddie for you! While she was born into incredible wealth, she also suffered greatly. Her life has been the subject of operas, one woman shows, museum exhibits and the focus of research.  Her life in many regards is not to be believed, however because of all the legal dealings, there's quite the paper trail. She marched in and out of courtrooms throughout her lifetime and her personal matters became fodder for the media. Her story is absolutely riveting. I'm fortunate that I was able to travel to France and meet with her descendants and walk the family estate. The French Quarter looks the way it does today due in large part to her. She's influential – personified.
Advice to other women interested in starting a business?
Do it! Despite what you often hear, women are the biggest cheerleaders for other women. There's room for you at any table you want, just believe in yourself and go for it.
Exciting business developments or offerings you'd like the community to know about?
New schedule and tour options in development and as the world opens back up announcements will be made. Stay tuned and check out twochickswalkingtours.com.