In honor of Women's History Month, we're shining a light on women-owned businesses in our community and the value that they bring to our culture, society and economy. As we spend the month reflecting on the courage and tenacity of the women that paved the way before us, we also celebrate the women of today, working to influence and inspire the next generation of leaders.
Recently, we asked Elizabeth Pearce of Drink & Learn a few questions about her business and advice to young women. Additionally, we were able to experience Elizabeth's incredible storytelling first-hand, as she provides the compelling history of the Irish in New Orleans, paired with a crafty cocktail recipe, as a tribute to St. Patrick's Day.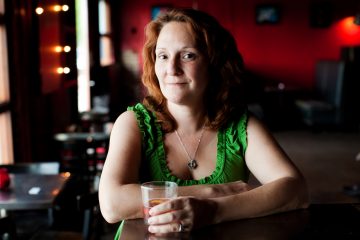 Tell us about your business and how long you've been operating. 
I created  Drink & Learn in 2010. I was the curator at the Southern Food and Beverage Museum, but lost my job in the 2008 financial crisis. So I repackaged the food history programming I had presented at the museum, geared it to visitors, and offered my services to convention and meeting planners.  Soon after, I decided to focus on telling the story of New Orleans through its drinks and created the Drink & Learn cocktail tour. In 2018, I  launched the Drink & Learn podcast with my friend and bartender Abigail Gullo. When the pandemic hit, I pivoted to giving virtual classes on classic cocktails.
Has operating a woman-owned business presented you with any unique challenges or triumphs?
Many young women I have encountered through my work have said  that seeing me launch a successful business has inspired them to do the same. That is incredibly satisfying. 
Most influential woman in your life and why? 
It is a tie. My mother, Carolyn Pearce reared me to have an internal confidence, what some friends have called fearlessness, to just jump into a task with the belief that I can probably do it. In 2004, I was lucky to meet Liz Williams and work with her to create the Southern Food and Beverage Museum. In that journey, my willingness to try anything was put to use. I learned how to make something out of nothing. That knowledge came in handy when I had to start a new business in 2010 and then restart it during the pandemic.
Advice to other women interested in starting a business?
Everyone is making it up as they go along, and you can, too. Don't hesitate to reach out to people who are doing what you are interested in and hear and learn from their professional journeys. Don't feel that you have to follow a traditional path in order to end up where you want.  
Exciting business developments or offerings you'd like the community to know about?
I never expected to enjoy giving virtual cocktail classes so much. Although many are zoomed out, guests have told me that my classes are a surprising amount of fun and offered real camaraderie. As we come out of the pandemic, I hope my virtual classes remain an option for folks who want to interact loved ones who live far away. And I hope that when businesses choose virtual meetings to save time and money, they will still offer programming like my classes to keep meetings lively and engaging.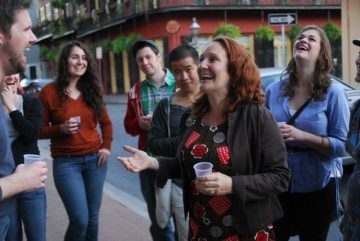 Celebrating St. Patrick's Day: The History of the Irish in New Orleans
When most New Orleanians think of the Irish in our city, they think of the Irish channel and getting kisses and cabbage at the St. Patrick's Day parade. But the Irish presence in New Orleans is much richer than that. 
The Irish first came to New Orleans in the late 1700s but the largest wave came in the early 1800s when they were escaping economic depression and later the Irish potato famine. New Orleans' strong Catholic tradition was a big draw. The Irish helped dig canals and build railroad. In particular many lost their lives digging the New Basin Canal. A Celtic cross stands at Pontchartrain and West End Boulevards, commemorating their sacrifice. Irish men also worked at the port and formed several unions that helped to ensure better working conditions and wages there. 
Irish Women mostly worked as domestics but also made their mark on the city, in particular Margaret Haughery. She operated a bakery and donated much of her profits to orphan asylums and charities. Her statue, funded by New Orleans children, stands at the intersection of Clio, Prytania and Camp Street.
By 1850 New Orleans had the largest Irish population in the south and one in five residents was from Ireland. It is not surprising then that when scanning advertisements in historic New Orleans newspapers, the availability of Irish whiskey for sale increased during this time as well. 
The Irish created strong communities across the city, often building churches that anchored them. They founded charitable clubs like the Hibernian Society and celebrated St. Patrick's Day as early as 1806. By 1870 they founded the Hibernia Bank, which remained an integral part of New Orleans financial structure for over a century. 
Though New Orleans often presents itself as a French city, it is important to acknowledge the contributions of the variety of immigrants who helped shape the city into what it is today. Clearly, the Irish are a big part of that story.  
New Orleans Irish Coffee
This Creole twist on traditional Irish coffee uses Praline Liqueur as the substitute for the brown sugar normally called for and replaces the regular drip coffee with coffee and chicory.
3 ounces strongly brewed coffee with chicory like CDM
1 ounce Irish whiskey
1/3 ounce Praline Liqueur
Whipped cream
Pour the hot water into your glass or mug to heat it, then dump out the water. Add the Praline Liqueur, Irish whiskey and the coffee to the glass and stir to combine. Top with whipped cream.
Note: The cream needs to be only somewhat whipped. If it is too thin, it will just dissolve into the coffee. You need to be able to sip the coffee through it, but if it's too thick, you'll have a mouthful of whipped cream. Work for a happy medium.